Honorary-Editor-in-Chief
Clifford K. S. Chao, MD, PhD
Vice President, China Medical University, TaiwanDirector, Preparatory Office of Biomedical Industry, China Medical University Hospital, TaiwanSuperintendent, Cancer Center, China Medical University Hospital, Taiwan
KS Clifford Chao is a pre-eminent expert in the use of image-guided targeted radiotherapy for the treatment of cancers and has served as Principle Investigator of multiple NIH and DoD research grants and published more than 180 peer-reviewed papers. He was a tenured associate professor at Washington University School of Medicine in St. Louis, a professor at University of Texas, MDACC, and later became distinguished chaired Professor and the Department Chair of Radiation Oncology of Columbia University and Weill Cornell Medical College. Dr. Chao's research focus includes combining positron emission tomography (PET) and computed tomography (CT) images to construct individualized treatment plans that address the molecular characteristics of each tumor. He co-founded two MD Anderson-based start-up company using a knowledge-based artificial intelligence to guide high precision robotic image-guided therapy system that helps map the exact location of a tumor and direct radiation towards the malignant cells while avoiding healthy tissue.
---
Editor-in-Chief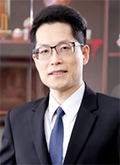 Yu-Jen Chen, MD, PhD
President, MacKay Junior College of Medicine, Nursing and Management, Taipei, Taiwan
Yu-Jen Chen received the medical degree in China Medical University in 1993 and the M.S. degree in Traditional Medicine from National Yang-Ming University in 1995, Taiwan. He received Resident training for Radiation Oncology in MacKay memorial hospital in Taiwan and obtained board in Radiation Oncology in 1999. Then he received the Ph.D. degree from the School of Medicine, National Yang-Ming University in 2002. In 2007, he served as a visiting scientist in MD Anderson Cancer Center, Houston, TX, USA.
Yu-Jen Chen is currently the president of MacKay Junior College of Medicine, Nursing and Management, Taipei, Taiwan. He is a professor in School of Medicine, National Yang-Ming University and in MacKay Medical College, Taipei, Taiwan. He is a senior attending physician of Department of Radiation Oncology, and director of Laboratory of Cancer Therapeutics in MacKay Memorial Hospital, Taiwan. He has been holding leadership, supervisory and administrative positions in the medical research and clinical oncology field. Prof. Dr. Chen has published over 240 SCI articles and 3 book chapters on the basic research, translational medicine and clinical practice. He owned 24 innovation patents in the fields of cancer and immunology.